Event Registration
Upcoming JuicePlus+ events in the Greater St. Louis area
See events – Year at a Glance
Aug
13
Thu
One Simple Change/John Blair, Farmington, MO

@ Farmington Family Fun Center Buffet
Aug 13 @ 7:00 pm – 8:00 pm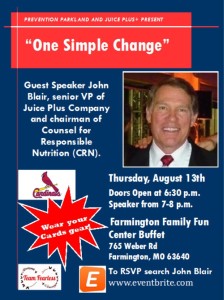 Who in their business gets to sit down with the Vice President of the company??  WE DO!!! Join us for an incredible evening with Mr. John Blair.
Don't forget to wear your CARDS gear!
John Blair, Senior VP of Juice Plus+ and Chairman of Council for Responsible Nutrition.
Thursday, August 13th
Speaker 7-8 PM | Doors Open at 6:30 PM
May
5
Thu
Meet Me in St. Louis – Ron Watkins

@ St. Francois County Country Club
May 5 @ 6:30 pm – 8:00 pm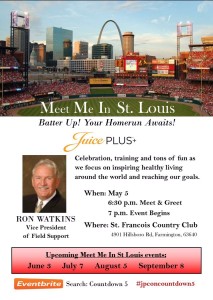 Ron Watkins will be sharing with us training on how to continue to inspire healthy living around the world! There will celebrations and tons of fun happening too!
***There will be a menu available at 6pm for dinner, please join us! ***
WHEN

WHERE

St. Francois County Country Club
4901 Hillsboro Rd, Farmington, MO  63640
Sep
12
Mon
Say Yes More Often – Tom & Christine Abrell

@ St. Francois County Country Club
Sep 12 @ 6:30 pm – 8:00 pm